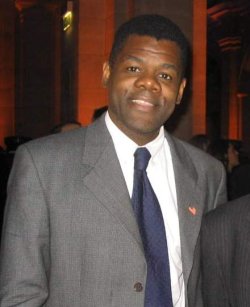 FORWARD THIS EMAIL TO FRIENDS!
TELEPHONE: Thank you for including your telephone number EACH time that you reserve. TROUBLE REACHING PATRICIA BY EMAIL? TELEPHONE http://www.blogger.com/parissoirees@gmail.com.



LINKS: Having trouble opening Patricia's email links to rsvp? Just copy and paste the link into your non search engine, internet address browser.




Visit Patricia's website - http://www.parissoirees.com/


"VIVID EXPERIENCES: MY INTERNATIONAL HUMAN RIGHTS ENCOUNTERS IN NORTH AFRICA"


Sunday 24 February

18h45 - 22h00

Happy Hour. Dinner and Dessert Tony Kenneybrew 's Presentation. More Great
Socializing.
Our Guest of Honor:

Tony Kenneybrew

Attorney


"Vivid Experiences: My International Human Rights Encounters In North Africa "

Paris based attorney, Dr. Tony Kenneybrew, specialized in intellectual property, human rights and other fields, recently returned from a two year stint as a professor of French law and French literature at the University of Tulsa, in Tulsa Oklahoma. Attorney Dr. Kenneybrew continues his work in international human rights (among other fields) and will share some dramatic experiences and insights. He has been illegally detained more than once in North Africa and was once rescued by the America Embassy.
Maitre Tony A. KENNEYBREW, J.D., Ph.D.
Avocat à la Cour d'Appel de Paris
Docteur en Droit : Propriété Intellectuelle
8, rue de Courty,
75007 Paris, FRANCE
Tél. : (33) (0)8.70.44.71.53 / Fax : (33) (0)1.42.02.26.51
Portable : (33) (0)6.15.73.94.13
E-mails : knybrewt@hotmail.com / knybrewt@yahoo.fr
Barreau de Paris : E-0555
Please visit: http://www.gisserot-paris.avocat.fr/avocat_T_Kenneybrew.html

---

Sat 1 March 14h00. FEEL YOUR BEST!

Feel Your Best. Learn Self-Acupressure techniques and principles of Traditional Chinese Medicine with Earl Ferguson. Next Workshop Saturday 15 March At 14h00. EUR 30 for 3 intense hours. For info: parissoirees@gmail.com

---

PARTICIPATION FOR SUNDAY EUR 20 and a card or brochure.
ADDRESS:

Chez Patricia: 13 rue de Mulhouse, 75002 Paris. Metro: Sentier (line 3). Take the rue des Petits Carreaux exit (very important). Cross rue Reaumur. The street on the left should be rue des Petits Carreaux. Walk 2 blocks up on rue des Petits Carreaux. You'll face an HSBC branch (it does not have a cash machine). (There's Café Honoré on the right). That's rue de Clery. Make a short left (30 seconds) onto rue de Clery and then immediately a right onto rue de Mulhouse. There's also Les Halles, Reaumur Sebastopol and Bonnes Nouvelles. (Map on website: directions: www.parissoirees.com)


GREAT FOOD! International Cuisine. (Southern US, French or other European and. Vegetable dishes lovingly prepared as always by Patricia)
CONFIRMED RESERVATIONS ARE NECESSARY.

If you don't receive an email confirmation by Saturday night , please CALL Patricia: 01 43 26 12 88.
E-mail: http://www.blogger.com/parissoirees@gmail.com . RESERVATIONS WITH YOUR TELEPHONE NUMBER PLEASE.
We'll Post Events As They Are Confirmed For The Month:
Wed 27 Feb At 18h45: Patricia's Wednesday Cocktail: Paris Networking /Paris Singles Aperitif Joint Event.) Special Guest is Ta Wei Chao, Business and Negotiation Consultant on China(especially invited to France by Essec Business School) "TAKING A LOOK AT CHINA: Negotiating With China. Negotiating In China: Business Deals. Daily Life. Cultural Elements." EUR 15.00. Reservations with your telephone number please: http://www.blogger.com/parissoirees@gmail.com
Sun 2 March At 18h45: Paris Soirees Dinner Chez Patricia. Special Guest to be announced. EUR 20. Reservations with your telephone number: http://www.blogger.com/parissoirees@gmail.com
SPECIAL FRIENDS AND RESOURCES
Tap into Parler Paris ... written by Adrian Leeds, a long time resident of Le Marais and an American in Paris for more than 13 years, brings you Mondays and Wednesdays an "insider" view on life in Paris with tips on how to maneuver the system for working, living, visiting, and particularly investing in property in Paris and France! Subscribe today: http://www.parlerparis.com/
Free English-language Classifieds... Franglo.com is the premiere online community for Anglophones in France and others who want to connect. You can read and post classified ads in dozens of different categories, and it's fast, easy and free to publish your own ads. Visit http://www.franglo.com/
Web Site Help....when you want your web site and on-line marketing tools to perform to their best, contact Julie Vetter for a free initial consultation. Solutions that fit your needs and your budget. Portfolio at http://askjv.info/



Feel Your Best. Learn Self-Acupressure techniques and principles of Traditional Chinese Medicine with Earl Ferguson. Next Workshop Saturday 1 March At 14h00. For info: http://www.blogger.com/parissoirees@gmail.com